"KazgerKus" LLP was organized in February 2008 on a basis of crop company "KAZGER"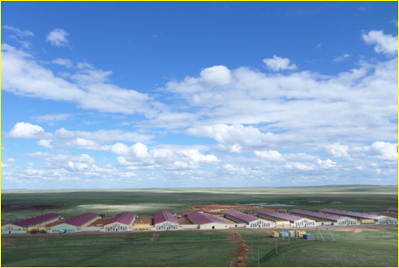 created in 1997 in Enbekshilderskiy region, Akmolinskaya oblast in cultivated area which are 20 000 hectare. We began to build the poultry farm in April 2008, put into operation in December 2009.
In 2013 the second line of the poultry farm was begun to build, in 2015 two young growth cultivation and 8 hen-houses for laying hen were finished and put into operation. Production capacity is constantly increased due to premises extension and hen livestock. In 2009 middle livestock of laying hen is 239,6 thousand pieces, in 2012 – 513,4 thousand pieces, in 2013 – 526,6 thousand pieces, in 2014 – 606,4 thousand pieces.
In 2015 average annual livestock of laying hen we plan to lead to 1million 100 thousand pieces what allow to increase production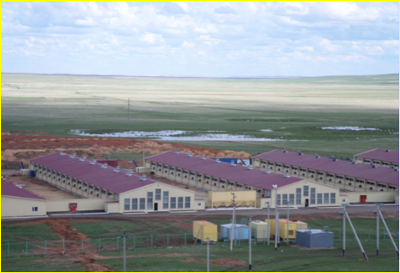 volume up to 300,0 million eggs per year. The technological scheme of cultivation and laying hen maintenance 1:4. It means 1 hen-house for the young growth cultivation is enough for complete set of 4 industrial hen-houses. All production is located in 2 areas. In the first area there are 2 hen-houses cultivation of remedial young growth and 8 hen-houses for laying hen.

The egg sorting workshop is situated in the middle between hen-houses. Egg from hen-houses through anaconda comes to the egg sorting workshop and further goes to warehouses which adjoin to the egg sorting workshop. Formula-feed workshop capacity 10 tons per hour is completed with the modern German equipment by the company Awilla. There is a workshop on sunflower oil production and oil cake for hen feeding.
In winter hen-houses are heated with the help of gas generators.
There are gasholders in the territory. There are the licensed veterinary and zoo technical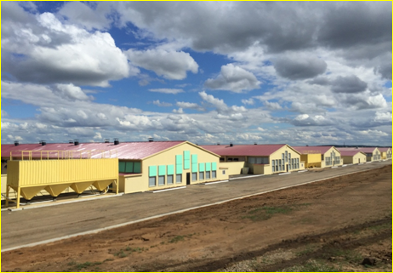 laboratories on the first area. Hen falling after its opening by veterinary specialists and reason detection are burn in special oven-crematoriums. There is a workshop on laying hen slaughter which works very successfully with volume 1 000 pieces per hour. It allows closing a production cycle. With the aim of biosafety for the main production the hen slaughter is on a distance 26 km. The poultry farm is a close-end company. The entrance is forbidden for strangers.
All roads are divided into "clean" and "dirty". All veterinary and sanitary regulations are observed. The main company activity is a food chicken egg production. During a long time a special attention paid to quality issues. In 2010 "KazgerKus" LLP worked out and introduced a quality management system (QMS) for providing of a high quality production and company prestige promotion in the inner market. This system belongs to standard CT RK ISO 9001-2009 and "KAZGER-KUS" is a participant of governmental programs "30 corporate leaders of Kazakhstan" and "Food zone around Astana city". Production customers are all over the main cities of Kazakhstan (Astana, Almaty, Kazaganda, kokshetau, Aktobe, Atyrau, Shymkent, Pavlodar, etc.).
The poultry farm is situated in an organic area in steppe in the distance of highway and railway roads. Around 60 km there are no poultry-farming and livestock farms.